Latest science, authors, issues – from climate change, oceans, forests, pollution, Peak Oil, the economy, and peace. Ready for re-broadcast, computer, iPod, or mp3 player. As heard on over 90 radio stations.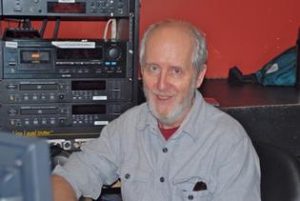 Alex Smith – photo by Philip Smeltzer
About Alex Smith
Host of syndicated weekly Radio Ecoshock Show – the cutting edge with top scientists, authors and activists. Tenth year on the air as of 2016. Previously a researcher for global environment group, print journalist, homesteader, world-traveler, and private investigator.
Contact Alex at or by using the website contact form.
For the past years I've funded Radio Ecoshock from my pocket. Now downloads and costs have increased. I need your help to keep going.
SUPPORT RADIO ECOSHOCK – YOUR OPTIONS
1. Give $10 monthly with a Radio Ecoshock membership

2. Mail a check of any amount over $10 made out to: "Ecoshock"
Mail to:
Radio Ecoshock
PO Box 456
Midway
British Columbia
Canada V0H 1M0
3. Make a donation of any amount

Questions? Use our Contact page.